For the 2021 event we have decided to reduce the price of the race and reduce wastage. T shirts will be selective rather than a universal 'freebie', as in the past.
We have designed an event T shirt in gold colours which will be awarded in correct cut and size to the members of the top three teams in each category. If you are in a top 3 teams in any category you need to inform your team captain of your shirt style and size and all the shirts will be posted to the team captain.
Make: AWDis Cool. Fabric 100% polyester wicking
Sizes and styles:
Men's style (Chest size)             S (37/39inches)    M (39/41)         L (41/43)               XL (43/45)
Women's style (Ladies size)       XS (8)       S (10)             M (12)        L (14)     XL (16)
Race souvenir T shirts for sale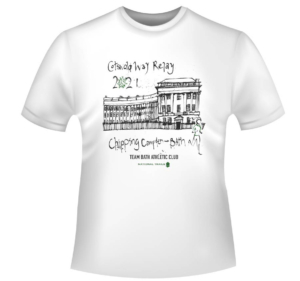 People can also purchase a white shirt in this design via the web site link.
There will be two batch printings and two order dates:
1) Order and pay via the web site before 15 June and your shirt will be sent to you before race day by the race organisers.   Cost £12
2) Order and pay between 16 June and 9 July and your shirt will be printed and posted by the end of July.  Cost £12
Fill out the form below to order