Welcome to another running of Team Bath AC's Cotswold Way Relay.  For everyone's safety, please read the following before starting your leg of the Relay.  This information was last amended 13.6.2019.  Please check again in the week before the race.
 Safety
This year's race is indemnified through registration with the Trail Running Association (permit 2726). The TRA has a joint arrangement with UK Athletics, which is why runners must be attached or pay an unattached supplement.
Our responsibility as race organisers is to
Make a formal risk analysis
Enact a plan to mitigate foreseeable risks.
Provide assistance at major road crossings (though we can't stop traffic).
Arrange participating clubs to set up half way water and aid stations
Have a tail runner on each leg to sweep up at the back of the race
Your responsibility as runners is
To read the race guidance and follow advice
Reconnoitre the route
Follow the kit recommendations
Under no circumstances run under a false name
Only run if you are fit and expect to achieve a pace of 12 minutes/mile
Have a plan in case of runner injury or drop out
Support other runners during the race. If you aid another runner and lose time as a result , notify at the finish and we will make time adjustment
Follow instructions from marshalls particularly at road crossings
Respect the Cotswold way its Nature its farmers and its other users
Mandatory kit   
Official running number,
Safety details on reverse completed,
Worn on the front for time keepers
Mobile phone
Team captains number entered
Race director Number entered: 07759174595
Water container:  refillable bottle or bladder
No disposable cups or disposable bottles at water stations
Recommended Kit
Trail shoes
Clothing appropriate for predicted weather
Small first aid kit
Extra calories (please no trail litter)
Map or GPS or know your route
Pre race
We recommend that you reconnoitre the route. The only way markings will be the national trail signs.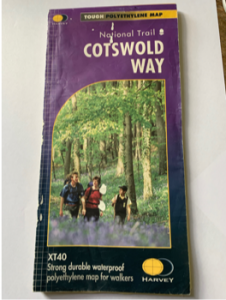 Harvey produces a great polythene map showing the whole route.  Available on line  £14.50
Environment
As runners we all have responsibility to make the event as sustainable and low impact as possible.  This year:
We will avoid the use of disposable plastic waste during the race
We will increase our contribution to the Cotswold way authority
We are using a recyclable cup rather than T-shirt as a memento
We have tried to limit the race to 100 teams (actually 103)
Travel
Can you all consider the impact of traffic on the race. Public transport is of little use. Car numbers at changeover sites is a major limiting factor to the size of this event.  Please try and car share wherever possible.
Allow plenty of time to get to your race start. Remember that the set down at the start of an outgoing leg may be 2.5 hours before the last incoming runner arrives. Allow plenty of time if you plan to visit more than one change over point. If you are following the race as a supporter try and leave changeover points clear for runners being set down and picked up.
Check before you agree to drive someone else's car between stages.  Insurance rules on 3rd party cover have changed for many policies.
Kings and Queens of the Cotswold
Runners who have raced completed all 10 stages in different years earn the title King or Queen of the Cotswolds.  Keeping track of the Data on this has become increasingly complex,  so we need you to tell us if you think your leg this year will be your 10th.  We will verify the data, most of it to be found on the website. This year's titles will be awarded at the prize giving, but we can only do this if we have prior notification.
Stage 11
This year's race has an accelerated schedule and so should be finished by 18.00 with results completed by 19.00.
We have a new venue for drinks, socialising and results after the Race: Widcome Social Club, a ten-minute walk from the Abbey along the river past the Rugby Club (former venue). Parking in Widcome is very limited, your best bet will be the pay-and-display car-parks at Bath Cricket Club or Bath Sports & Leisure Centre. The Park-and-Ride service from Lansdown runs until 8.30, so please consider parking there and using the bus to get into and out of town, or just leave cars there and car-share into the centre of Bath. There is plenty of choice of food nearby on Widcome Parade
Place

Parking
Toilets
Start
Marshall
Water
Dst. Tm.
Chipping Campden Postcode: GL55 6JG GR: SO153392

Plenty on town streets early on Saturday morning
Marked on map On Sheep street
Registration from 6.15 to 6.30 Start 0700
Fish Hill on A44 @ 5k GR SO118370
Broadway @ 9 k by Great Western Runners
19.2 k (12 M) Cut off 2 Hrs. 30 minutes
Place

Parking
Toilets
Start
Marshall
Water
Dst. Tm.
Stanway House: Post Code GL545PQ GR SO062323

Narrow unmarked rds. Congestion. Park carefully clear of start and walk.
None: Use Petrol stns on approach. Woods around if in dire need
Registration from 7.15 to 7.30 start and 0800
Stanway Hill crossing B4077 500 m from start GR SO063321
Winchcombe town (approx. 9k) by Bitton RR
19k (11.9 M) Cut off 2 hrs. 30
Place

Parking
Toilets
Start
Marshall
Water
Dst. Tm.
Cleeve Common: Post Code: GL523PW, Grid ref: SO989272

None At Golf Club Absolutely must use allocated car park See Map
In golf club
Registration 0815-0830 Start 0900
Dowdeswell reservoir on A40, GR: SO987198 @9k
Near Dowdeswell crossing 9k (TBC) by Almost Athletes
13.2k (8.3 miles) Cut off time 1 hour 45 minutes
Place

Parking
Toilets
Start
Marshall
Water
Dst. Tm.
Seven Springs Post Code GL53 9NF Grid ref SO969172

Plenty near the finish see map
None: Use Petrol stations on approach. Woods around if in dire need
Registration 09.15-0930 Start 10.00
1@ star college SO942172 (5k) 2@Air Balloon roundabout SO934162 (9k)
3@ Birdlip Hill SO925144 (11k) 4@ Cranham Corner A46 SO883130

?Crickley Hill Car park 8k (TBC) by CLC striders
20.4 K (12.8 Miles) Cut off time 2 hrs 30
Place

Parking
Toilets
Start
Marshall
Water
Dst. Tm.
Cranham Corner Post Code GL66TT GR SO880128

Behind the Royal William Pub. No Parking on A46 opposite pub
In Pub open from Noon Please spend pounds not just pennies here!
Registration 10.15-10.30 Start 11.00
1 @ Edgemoor Inn A4173, 7k, SO840091 2@ Ryeford B4008 SO814048

? Haresfield beacon car park 12k TBC by Hucclecote
18.9 km (11.8 Miles) Cut off time 2 hours 30 minutes
The finish of leg 5 in Stroud is some distance from the Start of leg 6 and needs to be approached separately. The finish along the canal just before a small bridge. Not in a field under a tree as stated in the Website GPX file
Post Code GL54UE GR: SO824046

Place

Parking
Toilets
Start
Marshall
Water
Dst. Tm.
In field south of A419 Near Sainsbury's roundabout GL55JR GR: SO832045

Sainsbury's car park, Dudbridge Hill, Stroud GL53HG
In Sainsbury's
Registration 11.15-1130 Start 1200
1 @ Selsey Hill SO834039 800metres 1@ Coaley peak SO795005 9k

? Car park Coaley peak 9k (TBC) by Chepstow Harriers
14k (8.8 miles) cut off time 2 hours
Place

Parking
Toilets
Start
Marshall
Water
Dst. Tm.
Dursley Car park of Old spot GL11 4JQ

Car park opposite "Old Spot "also nearby Sainsbury's
Municipal toilets in car park
Registration 12.15-1230 Start 1300
None

North Nibley 8k by Chippenham Harriers
11.6k 7.3 miles cut off time 1 hour 30
Place

Parking
Toilets
Start
Marshall
Water
Dst. Tm.
Wooton Under Edge GL127LT OS760935

Residential roads in the nearby housing estate
Municipal toilets on ropewalk in town. Should be plenty of open pubs
Registration 13.15-1330 Start 1400
None

? near Hawkesbury Upton (TBC) by Avon Valley runners
19.4k (12.1 miles) Cut of time 2 hours 30 minutes
Place

Parking
Toilets
Start
Marshall
Water
Dst. Tm.
Old Sodbury BS376NG GR OS753816

To be arranged avoid the residential street marked on map
At the Dog inn
Registration 14.15-14.30 start 1500
1 @ A46 Nth of J18 M4, OS 763790 2 @ A46 Sth of J18 M4 SO 756775
3@ Gorse Lane SO 740737 4@ A46 Pennsylvania SO745733
? A46 500m s of J 18 (TBC) by Bristol and West
14.8k (9.3miles) cut off time 2 hours
Place

Parking
Toilets
Start
Marshall
Hazard
Water
Dst. Tm.
Cold Ashton SN148LA GR SO 744724 then Greenway Lane

Limited at start of Greenway lane. Dangerous on A46 grass verge. Best park with consideration on Cold Ashton village streets
None
Registration 1525-1530 Start 1600
Freezing lane crossing on Lansdowne SO723704
Runners will arrive in Bath city centre from 1700. Some shops will still be open. Paving stones may be slippy or uneven and you will be tired
Take care on the city streets which we cannot marshal
Expect and avoid pedestrians and unaware tourists
? Atfreezing lane Marshal point ( TBC) By Running Somewhere Else
15.7K (9.8 miles) cut off time 2 hours finish in front of Bath Abbey
Place

Parking
Toilets
Start
Marshall
Water
Food
Distance
Time
Widcome Social Club BA2 6AA

V Limited on nearby streets: Lots of municipal car parks in town
Provided Sorry no showers
1800
Freezing lane crossing on Lansdowne SO723704
Or beer from the social club bar
Takeaway, restaurants, convenience stores all close by on Widcome parade
800 m From Bath Abbey race finish
Prize giving at 1900